STAY CONNECTED AT SYCAMORE CREEK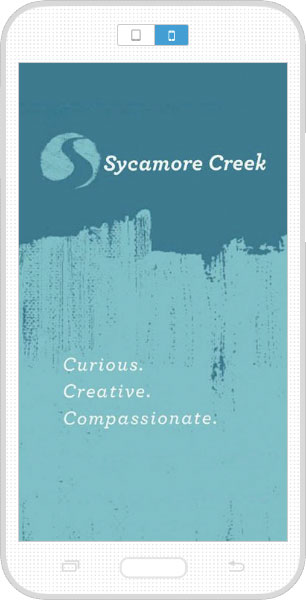 Dear Friends,
We've got an app!  No, that's not a reference to deep-fried mozzarella sticks now being served in the Connection Café. You can now download our app from your Android or iPhone store. You'll find all kinds of good stuff in the app: listen to sermon audio (from the S Lansing Campus for now), submit prayer requests, visit our YouTube page, set up electronic giving, and more.  Search for SCCMI and you'll find it.  Then take a moment to review it. Here's a couple of things to know:
Over half of our giving comes in electronically.  This makes

giving easier for you and more reliable for Sycamore Creek.

 No more forgetting your checkbook.  And you give faithfully even when you're away from worship.  It's a win-win for everyone!

There's also an option for

text giving.  Text SCCMI to 77977.  Once you set it up you can then easily text an amount that you want to give.  For example, text "SCCMI 50" to 77977 to give $50.

  It's super easy from that point on.

You can also

access giving through our website.  You'll find a handy little giving icon in the top right corner of our website.  We'll soon have that icon in the email newsletter too.

Through the app or online you can

setup giving to specific designated accounts like the capital campaign or Dr. Mir.  You'll see a drop-down menu that allows you to choose which fund to give to or you can choose other and write a short description.  You can make a one-time gift or set up a recurring gift.

The giving portion of the app is

fully integrated with Church Community Builder (CCB).

 So you can access all of your giving options and records right through your CCB profile.  In fact, if you give electronically, there's no down time between your giving and our record keeping.  It happens simultaneously.  You don't have to wait for a giving statement to come in the mail to do your taxes.  Just login to CCB and print off your giving statement.

For those who give electronically, there is a small administrative fee.  You don't see it but we do.  The administrative fee is small if you're using a debit card, but it's minuscule if you

use your bank account info.  We appreciate either kinds of giving, but consider taking a little extra time to include your bank info.  It's all very secure and your giving will go even further.

Almost

everyone who was using our old system (Vanco) has transferred to the new system, but if you are among the handful who haven't yet done so, please take a moment to do so now.  If you need help, contact Susan in the office (517-394-6100) and she can walk you through it all.  She can even do it for you!
A couple of years ago I read a book called The Automatic Millionaire by David Bach.  Bach teaches a basic and simple principle to gain wealth:
"When it comes to money, all you have to do is automate your system and you're done."
He outlines a strategy for every area of your finances by putting them on auto-pilot.  Save automatically.  Pay bills automatically.  Invest automatically.  This is not a Christian book and Bach doesn't say much about his own spiritual life, but he does have a chapter about automatically tithing.  If a book about becoming a millionaire can include a chapter about the benefits of automating tithing, I think it's more than worth considering.  Bach is tapping into something Christians have known for a long time.  Giving back to God is a powerful spiritual practice.  Automate it through our electronic giving options and see how God uses this spiritual practice in your life and the life of our church!
Peace,
Pastor Tom
P.S. Do it now.  Download the app, SCCMI.  Automate your giving.  See what God does.